The conflict between Russia and Ukraine 
After months of tension, Russia began attacks on Ukraine as reported by Ukraine's ministry of interior, On Thursday, Russian troops attacked Ukraine from three sides, beginning with explosions in the capital, Kiev, the report states that Explosions were reportedly heard in Kyiv, Kharkiv, Kramatorsk, and other parts of Ukraine. According to reports, the attacks targeted key infrastructure in the country and killed at least 40 people killed so far.
According to ABC News, Putin announced on television that Russia would not tolerate any threats from Ukraine.
Despite diplomatic efforts to resolve the crisis, tensions between Ukraine and Russia have simmered for months.
How the conflict started 
Ukraine, a former Soviet republic, and Russia have long been at odds, but the situation began to spiral out of control in early 2021. Volodymyr Zelenskyy, last year's Ukrainian president, asked US President Joe Biden for help in joining NATO.

This act by Ukraine angered Russia, which started sending troops near its Ukraine border for "training exercises" in spring last year and increased it during autumn. By December, the US began hyping up the deployment of the Russian troops and President Biden warned of severe sanctions if Russia invaded Ukraine.

On

November 2021, satellite imagery shows that a new Russian army has assembled on Ukraine's border. Kyiv claims that 100,000 Russian troops have been mobilized along with tanks and other military hardware.

On December 7, 2021, President Biden warns Russia of broad economic sanctions if it invades Ukraine. 

Weeks after, Russia demanded that NATO ceases all military activity in Eastern Europe and Ukraine and that the alliance never accept Ukraine or other former Soviet nations as members.

On January 10, 2022, officials from the United States and Russia meet in Geneva for diplomatic talks, but the differences between the two remain unresolved as Moscow reiterates its security demands that Washington deems unreasonable and cannot accept.

By January 24, 2022, NATO starts putting forces on standby and reinforces its military presence in Eastern Europe. The US puts 8,500 soldiers on alert.

On January 27, 2022, China supports Russia politically and urges the United States to consider Moscow's "legitimate security concerns" as

Biden warns of an imminent invasion by the Russians in February. 

On January 28, 2022, Putin said Russia's main security concerns were still unresolved, but Moscow was willing to continue to hold talks.

On January 31, 2022, US Ambassador to the UN Linda Thomas-Greenfield and Russia's UN envoy Vasily Nebenzya traded words

a special closed session of the UN Security Council.US Ambassador to the UN warns the council that a Russian invasion of Ukraine could threaten world peace and security while Russia's UN envoy Vasily Nebenzya accuses Washington and its allies of drumming up the threat of war despite Moscow's repeated denials of a planned invasion

.

on  February 1, 2022, Putin claims the US ignores his country's security concerns and demands

On February 8, 2022, French President Emmanuel Macron meets Russian President Vladimir Putin in Moscow for marathon talks. The Kremlin, however, denies that Macron and Putin struck a deal to de-escalate the crisis. He claims "in the current situation, Moscow and Paris can't be reaching any deals".

On February 11, 2022, Sullivan says US intelligence indicates a Russian invasion could begin before the end of the Beijing Olympics on February 20. A total of 3,000 additional US soldiers are sent to Poland to reassure allies.  

A number of countries have told their citizens to leave Ukraine, with some warning that a military evacuation will not be guaranteed in the event of war.

On February 12, 2022, Biden and Putin hold talks via video conference, Biden says a Russian invasion of Ukraine would cause "widespread human suffering" and that the West was committed to diplomacy to end the crisis but "equally prepared for other scenarios".  

Putin complains in the call that the US and NATO have not responded satisfactorily to Russian demands that Ukraine be prohibited from joining the military alliance

February 15, 2022, Putin says he was "ready to work further" with the West on security issues to de-escalate tensions over Ukraine, but emphasizes the need for the West to heed Russia's main demands.

February 17, 2022,   "If true, reports of renewed shelling in eastern Ukraine are extremely worrying. Such clashes must not happen, and all sides must exercise restraint," said NATO Secretary-General Jens Stoltenberg in response to reports of renewed heavy fighting between Russian-backed separatists and Ukrainian government forces.

February 18, 2022, Biden said he was convinced that Russian President Vladimir Putin has made a decision to invade Ukraine, warning Moscow against starting a war of choice that would be catastrophic. But the US president says the door for diplomacy remains open Until war breaks out.

February 19, 2022, The Russian-backed leaders of Ukraine's two breakaway regions announce a general mobilization, spurring fears of a further escalation.

February 21, 2022, Putin orders Russian troops to "maintain peace" there in two breakaway regions in eastern Ukraine, Donetsk and Luhansk. Russia openly send troops and weapons to the long-running conflict pitting Ukrainian forces against Moscow-backed rebels.

February 22, 2022, "We're implementing sanctions on Russia's sovereign debt. That means we've cut off Russia's government from Western financing, the measures also would target financial institutions, and Russian "elites", Biden says.  Biden calls it the "first tranche" of sanctions against Russia, including steps to starve the country of financing.

February 23, 2022, Ukraine's parliament approves a national state of emergency in response to the threat of a Russian invasion. 

Meanwhile, Biden allows sanctions to move forward against the company that built the Russia-to-Germany Nord Stream 2 gas pipeline and against the company's CEO.

February 24, 2022, Putin demands the neighboring country's army lay down its weapons as Russian forces unleash an attack on Ukraine. In an address broadcast on state television, Putin says "We urge you to lay down arms immediately and go home. I will explain: all servicemen of the Ukrainian army who comply with this requirement, can freely leave the area of military actions and return to their families" he says in an address broadcast on state television.
Putin also urges other nations to not intervene.
"Whoever would try to stop us and further create threats to our country, to our people, should know that Russia's response will be immediate and lead you to such consequences that you have never faced in your history. We are ready for any outcome."
Ukrainians started fleeing some cities, and the Russian military claimed to have incapacitated all of Ukraine's air defenses and air bases within hours.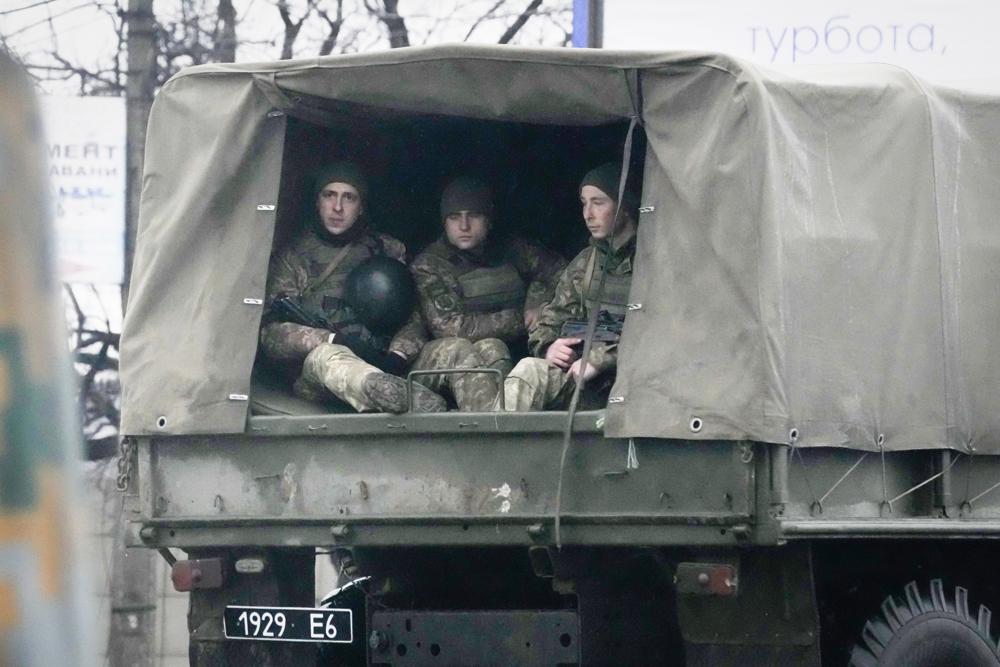 https://www.aljazeera.com/news