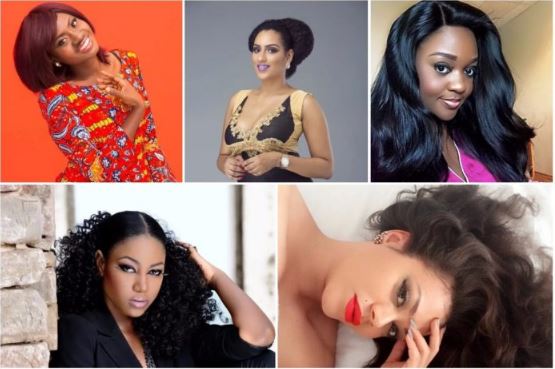 These days, Ghanaian movies have become popular all over the world. Do you know the names of the most famous Ghanaian actresses? Let's look through the list of the best of them! Usually, the movie industry in Ghana produces what is referred to as "Kumawood" films. However, there are other Ghanaian films which are known as "Ghallywood" productions. Films representing the African witchcraft are very popular in Ghana, despite the criticisms they have received.
Movies made in Ghana have their own peculiarities and special effect. Today we are going to talk about the gems of the Ghanaian movie industry and we can see that they are beautiful ladies. They have gained popularity not only in Ghana but in the whole West Africa and some even abroad. We will tell you a bit about them and the tribes they are originated from. They all are real beauties, so enjoy reading!
#1) Jackie Appiah

Jackie Aygemang Appiah is a famous Ghanaian actress. During her career, she has gained several nominations and awards such as the Best Actress in a Supporting Role in 2007 at the Africa Movie Academy Awards, and Best Actress in a Leading Role in 2010 at the same award show. By the way, in 2008 she received 2 awards for Best Upcoming Actress and Best Actress in a Leading Role, also at the Africa Movie Academy Awards.
#2) Joselyn Dumas

Joselyn Dumas is a television actress and host in Ghana. In 2014, she featured in "A Northern Affair". Joselyn received an Africa Movie Academy Award nomination for Best Actress and a Ghana Movie Award
#3) Juliet Ibrahim

Juliet Ibrahim is a Ghanaian actress, singer, film producer, and humanitarian of Lebanese, Ghanaian, and Liberian descent. Juliet received an award for the Best Actress in a Leading Role award at the 2010 Ghana Movie Awards for her role in "4 Play". Also, she was once listed as the "Most Beautiful Woman from the Western Africa" according to "A-listers Magazine".
#4) Yvonne Nelson

Yvonne Nelson is a Ghanaian model, actress, entrepreneur, an film producer. She has featured in several movies including "House of Gold" (2013) and "Any Other Monday".
#5) Yvonne Esi Chinyere Okereke Okoro
Chinyere Yvonne Okoro is a popular actress of a Ghanaian and Nigerian descent. She was honoured at the Ghana Movie Awards as The Best Actress in 2010 and was awarded Africa Movie Academy Awards for The Best Actress twice in a row in 2011 and 2012 for her movies "Pool Party" and "Single Six". Also, in 2012, she has received 4 Africa Magic Viewers' Choice Award and was nominated for a Distinguished Achievement Award at the Nigeria Excellence Awards.
#6) Martha Ankomah

Martha Ankomah is a very famous Ghanaian actress, who has featured in several movies and has gained awards for playing explicit roles.
#7) Christabel Ekeh

Christabel Ekeh is a rather popular actress and a successful model. She came to the limelight after she featured in such movies as "Efia", "College Girls", "Kafui", and in Shirley Frimpong Manso's investigative series, which is called "Peep".
#8) Ebiere Bright

As for Ebiere Bright, she is not only a Ghanaian actress, but she is also a politician. Ebiere's first role was in the movie "The Game" by Hero Productions, where she played the part of a hired assassin. Actually, she did not anticipate going into acting but after she featured in "The Game", many different roles kept coming.
#9) Luckie Emefa Lawson

Luckie Emefa Lawson is a popular Ghanaian actress and a film producer. She has acted in such movies as "College Girls", "Efia", "Friends", "Familiar Stranger", etc.
#10) Soraya Mensah

Soraya Mensah is a popular Ghanaian actress and an entrepreneur. This half Lebanese and half Ghanaian actress was rewarded with a Fashion and Life Achievements Awards. In 2013 she featured in the Nadia Buari produced movie titled 'Diary of Imoge Brown.'
The Ghanaian movie industry is rather developed and popular. As far as we know, there are several tribes in Nigeria, and each of them has its super stars. The same can be said for tribes in Ghana. In this article, we collected information about the most popular Ghanaian actresses. After watching the movies where they acted, you will love these beautiful ladies!